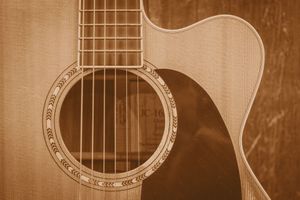 Terry Bell is a seasoned Nashville songwriter and performer and producer with over 30+ years experience in the music business.  He was born in California and was raised in the heart of the Red River Valley in the city of Grand Forks, North Dakota. 
From the time Terry was 5 years old singing in the church choir and doing his first solo on the radio, to getting his first 6 string acoustic guitar, an old Stella that his mom got him with Green Stamps from the M.H gas station, and hearing the Beatles on the Ed Sullivan Show, he has been playing music in clubs, coffee houses and bars in San Francisco, singing on the street on Fisherman's Wharf, performing at The Catalyst, The Crows Nest, in Santa Cruz, My Fathers Place in NY, and doing writers nights and shows at Douglas Corner, the Bluebird Cafe, and other clubs in Nashville,  Terry said  "music is like  breathing ,he can't live without it. " 
Here is a video of his Nashville Douglas Corner Showcase in early 90's 
He was a founding member of Dakotah, with fellow North Dakotan Michael Carney, the group was a popular country rock band in Eugene, Ore in the 70's, 80's. The band was a featured act at Oregon Country Fair and local hot spots like Murphy & Me, The Black Forest, Eugene Hotel and The Place.  Dakotah was one of the top regional bands in the Pacific Northwest.
Terry has shared the stage with artists, Robert Cray, Elvin Bishop, Steppenwolf, Head East, Beautiful Day, Country Joe and the Fish and folk -singer and legend David Bromberg and played concerts and festivals with Dakotah through out the Pacific Northwest. 
Terry moved to Nashville in 1988 to do an audition for"You Can Be a Star "a new talent show on The Nashville Network. The show was cancelled but because the producers were so impressed with his audition tape they decided to feature him on "American Magazine". The show was broadcast live on TNN and interviewed celebrities, country artists and showcased local upcoming songwriters. 
He's written songs for for Multi- Grammy Award wining rock producer Keith Olsen. Keith was producing, a friend of Terry's who was a country pop artist named Thad Christopher. They were shopping the project to the major labels in town.  Keith is known for the records he produced on Fleetwood Mac, Rick Springfield, Whitesnake, Grateful Dead, Foreigner, Heart, and Santana.  Emerson Lake & Palmer, Pat Benatar, Joe Walsh and Eric Burdon and the Animal's and other rock acts in the 70's, 80's 90's.   You can check out Terry's interview about working with Keith Olsen on the link below. 
Terry worked with country artist Tracy Lawrence at the beginning of his career. When Tracy did his first showcase at the Bluebird Cafe and his live at Libby's Sunday night radio shows where he performed 3 of the songs he wrote with Terry.   He has also written with songwriters, Jennifer Pierce, Gerald Smith, Bobby Marquez, Michael Grimm, Ashe Underwood, Margaret Harris, and  Lee Kweller to mention few of the songwriters he's written with over the years.  
Faith Hill – A Man's Home is his Castle 
He has worked behind the scenes writing and finding songs for California Country pop singer Summer Shappell first album. Summer was featured on Season 9 of the Knockout Rounds on the Voice. Terry was also responsible for finding a song that he heard at a local writers show written by Ariel Caten.  Faith Hill recorded her song "A Man's Home is His Castle "on her second album" It Matters To Me ".
The album was one of her top selling records in her career and was RIAA certified 4X Platinum in total sales in 2002 and to date has sold over 5 million records worldwide.
Terry is no stranger to having his songs hit the top of the charts over the years , his  current  song " She's Got a Heart like Mine " The Remix 2022 was 1# for 2 weeks on the Independent Music Network Country Charts  and his last single  " Find the Stars landed in the number 1# spot on the IMN charts . It also won an Inspirational Song of the Year Award.  He's  had top many of the songs he's written or co-written find there was to the top of the charts including , a No.1# in the Positive Country  format with his song "Take It To the Maker " by Michael Grimm a No.1# song in the New Music Weekly country chart with Jake Cauley hit "Crazy Over You." His song "John Wayne and Jesus", that he co-wrote with  Nick Granato hit the top of Positive Country charts and crossed over into mainstream country radio. It was nominated for Song of the Year and earned Grimm a Star of Tomorrow Award from the CCMA. Grimm went on to win the popular NBC show America's Got Talent in 2010. 
Michael Grimm singing John Wayne and Jesus at the Ryman Auditorium in Nashville 
Terry is a man of faith and knows that a divine hand has been helping and guiding all of his steps from the first day he left his home town and his feet hit music row because of all the amazing doors and opportunity's that opened up for him since he decided to follow his heart to pursue the dream that was planted in him as a kid. He lives and works in Nashville and is getting ready to release a new EP of his hits and new songs. You can find out more about Terry @ www.terrybellmusic.com